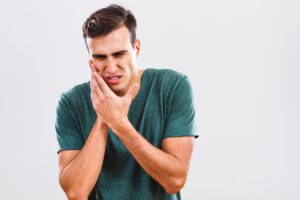 An estimated five million people in the United States get a tooth knocked out of their mouth every year, according to the American Association of Endodontists. Whether it happens while tripping, playing sports, or even walking into a glass door, it's important that you take the proper steps to preserve the tooth so that your dentist has the best chance of saving it. You may have heard that you should store a dislodged tooth in its socket to keep it alive until you can reach your dentist's office. Is it really possible to put a knocked-out tooth back into its socket by yourself? Keep reading below to find out.
Can You Place a Knocked-Out Tooth Back in Your Mouth?
When a tooth is knocked out, it's entirely possible to store it in the socket, at least until your dentist can forge a more permanent reattachment. However, there are other protocols you should follow to increase the chance of successful reimplantation.
First, locate the tooth and pick it up only by the crown (the shiny white portion that you see when you smile) and not the pointed root. Give it a quick rinse with milk or cold water. Do not scrub it, apply any kind of disinfectant, or dry it. Doing so could damage the delicate root cells that are needed to reconnect the tooth to the gums.
Once the tooth looks clean, gently position it back into the socket. You can keep it in place by softly biting down with it onto a handkerchief or napkin. Then, call your dentist's office as soon as you can.
Time Is of the Essence
A knocked-out tooth can only survive outside of the mouth for about an hour. After that, the odds of it being successfully reattached decrease significantly. That's why calling an emergency dentist should be your first priority if you lose an adult tooth.
Additionally, the tooth must remain wet. Otherwise, the cells along the tooth's roots will dry out and die, rendering them unable to connect to the gum tissue. Placing it inside the socket, in your cheek pocket, or in a container of milk can keep it viable until your dentist addresses the problem.
How Your Dentist Can Reattach the Tooth
In most cases, your dentist will use a splint to connect the knocked-out tooth with a neighboring one. Often, the lost tooth will appear discolored and will require additional work even after it has been reimplanted. However, this is a slight inconvenience compared to the problems that can develop if the tooth is not repositioned in a timely manner.
Millions of teeth are knocked out every year as a result of accidents and sports-related injuries. If this happens to you, follow the advice described in this post so that your dentist has the best chance of healing your natural smile.
About the Author
Dr. Derek Song is a dentist in Burlington, MA who graduated from the Boston University Goldman School of Dental Medicine. He and his team are proud to deliver same-day emergency dental care to patients in the Greater Boston area. Their practice is even open on Saturdays for added convenience. If you need urgent care for a knocked-out tooth, contact Dr. Song's office at 781-272-5890.