Dentures – St. Burlington, MA
Enjoy a Beautiful, Fully Functioning Smile Once Again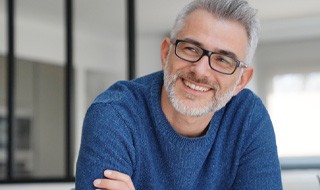 Tooth loss can affect more than just your appearance – it can negatively impact your overall quality of life. If you're missing one or more teeth, you know from experience how difficult it can be to perform everyday tasks. It can be quite difficult to do even the simplest things, like chew food or smile. Fortunately, Dr. Song can fill in those gaps with high-quality dentures in St. Burlington! This tried-and-true solution can bring back much of your mouth's function and appearance. Want to learn more? Continue reading or give our office a call today to schedule a consultation.
Why Choose Derek Song, DMD for Dentures?
Fully Customized Dentures
Dentist with Advanced, Specialized Training
Multiple Financing Options Available
Who is a Good Candidate for Dentures?
Believe it or not, dentures are far more versatile than you think! They have the ability to restore several missing teeth scattered throughout your smile or an entire arch. During your consultation with Dr. Song, he'll examine your mouth to determine the best solution for you. If you have any preexisting oral health concerns (i.e., decay or gum disease), we'll work the appropriate care into your treatment plan to ensure your mouth is ready for dentures.
Types of Dentures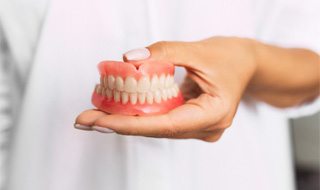 At your initial appointment, Dr. Song will discuss all of your options to help you decide which one fits your lifestyle and needs best. Rest assured – our team will explain the pros and cons of each one and provide you with a cost estimate to ensure you make a well-informed decision. Based on your situation, we may recommend one of the following types of dentures:
Partial Dentures
Partials are crafted from a gum-colored acrylic base that's often supported by metal. It's designed to fit around your existing teeth, anchoring the replacements in place to fill the gaps in your smile. These are usually removable, making them far easier to keep clean.
Full Dentures
Traditional full dentures are meant to restore an entire arch of teeth by anchoring to the jawbone and gums via suction. Like partials, they have a lifelike, gum-colored acrylic base along with prosthetic teeth. Once in place, they can improve your bite power and oral function.
Implant Dentures
If you want a more durable solution, implant dentures combine the benefits of traditional prosthetics and modern technology. Each titanium post is surgically inserted into the jawbone, restoring the entire structure of a missing tooth from the roots up to the chewing surface. They allow you to enjoy maximum stability and avoid unwanted movement.
The Benefits of Dentures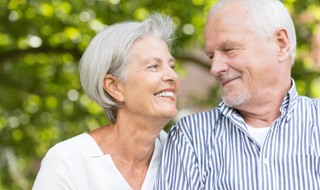 By choosing to replace your missing teeth with dentures, you can reap several incredible benefits! Some of those advantages include:
Ability to eat most foods
Improved speech
Long-lasting prosthetics with proper care and maintenance
Easier maintenance
Preservation of jawbone and facial shape (with implant dentures)