Emergency Dentistry – Burlington, MA
Need Dental Care Right Now? Call Us!

Dental emergencies come in two undesirable varieties. One, they pop-up all of a sudden because of an unfortunate accident, such as a knocked out tooth, or two, they slowly develop over time, like with a severe toothache. In either case, a patient should seek out urgent dental care to find relief and save their smile from further problems. Should you or a loved one find yourselves in this kind of scenario, you can always give our dental office a call right here in Burlington. We're ready to accept emergency patients, and we can even schedule same-day appointments to help people get what they need as quickly as possible.
Why Choose Derek Song DMD for Emergency Dentistry?
Able to make same-day appointments for emergency patients
Team of experienced dentists that includes in-house specialists
Safe & effective wisdom tooth extractions
Unparalleled Experience & Qualifications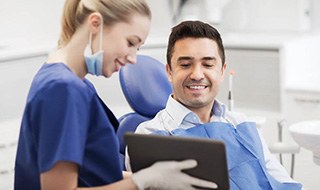 When you need immediate dental care, our practice is the best place for you to be, even compared to your local ER. We have a team of both general dentists and in-house specialists, all of which have handled pretty much any emergency situation you can imagine over the course of their careers. Our practice also has some of the latest dental technology, enabling us to find, diagnose, and treat a problem in record time, helping our patients get out of pain and on with their lives right away.
Dental Accidents & Facial Trauma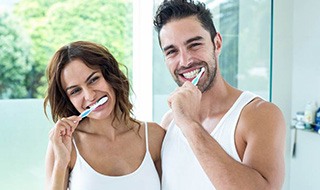 Has one of your teeth been chipped, cracked, or knocked out completely because of an accident? We're able to repair and even replant teeth if needed, but you need to come see us as quickly as possible to give us the best chance for success. After you have called our office, make sure you:
Try to recover any pieces of the tooth that you can
Gently rinse the tooth with warm water, and try to place it back into its socket and hold it there until we can see you
If this isn't possible, put the tooth in a container of milk or saltwater—the tooth must stay wet until you see us in order to keep it viable for reattachment!
Dental Emergencies Due to Oral Care Neglect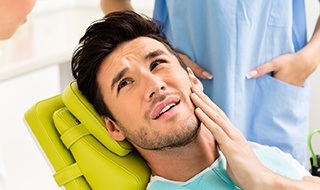 You've had a minor toothache for a while now, but all of a sudden, it's become a massive throbbing pain that's keeping you from sleeping at night. We can get rid of the pain and save the tooth if you act fast, so make sure you:
Give our office a call
Rinse your mouth and gently floss around the tooth to make sure nothing is stuck next to it and causing the pain
Place a cold compress on the face or take an OTC medicine to manage any discomfort.
Root Canals
A root canal is often the best solution for an extremely painful toothache, which is likely the result of an infection that has reached the delicate interior nerve of a tooth. Thanks to modern-day dental techniques, this procedure is now one of the best tools we have to relieve dental pain, not cause it!
Your dentist will simply numb the tooth, remove any infected internal tissue, clean the tooth, replace the tissue with a filling material, and then they'll later rebuild the enamel using a dental crown. After a root canal, a tooth can be expected to look and function normally (pain-free) for many years to come.
Tooth Extractions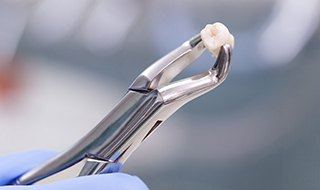 While removing a tooth is never our first choice, there are certain emergency situations where it is the only choice, such as:
A tooth is so damaged or decayed that it cannot be restored
Advanced gum disease has damaged the bone needed to support a tooth
Decay in one tooth is starting to affect those around it
In any case, should you ever need an extraction, our dentists always use a gentle touch and plenty of local anesthesia to ensure a comfortable experience from beginning to end.
Wisdom Tooth Extractions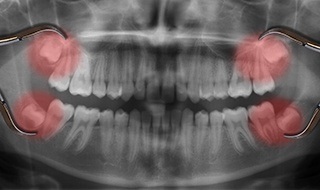 Are you or your child beginning to experience pain toward the back of the jaw? This could be due to the wisdom teeth starting to come in, which usually happens around the late teens or early twenties. These are an extra set of molars that most people simply don't have room for in their mouths, which means they often cause pain, teeth crowding, and even an infection as they struggle to erupt. Rather than sending you to a specialist like most other dental offices, we can provide safe and effective wisdom tooth extractions right here in Burlington.