BOTOX® – Burlington, MA
Give Your Smile a Beautiful Frame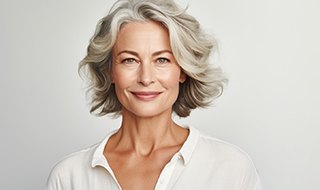 A beautiful, balanced smile can give your confidence a boost. However, you may still feel a little self-conscious if you have smoker's lines and other noticeable wrinkles. Don't worry – you can turn to our talented Burlington dentist, Dr. Song. In addition to his extensive experience in preventive, restorative, and cosmetic dentistry, he has completed advanced training on BOTOX®. As a result, he can help you achieve your dream smile and give you a beautiful frame for it! To learn more about this cosmetic treatment, reach out to us or keep reading.
Why Choose Derek Song, DMD for BOTOX®?
Has Completed Advanced Training in BOTOX® Therapy
Convenient Office Hours, Including Saturdays
Treatments Take 10 Minutes or Less
What is BOTOX®?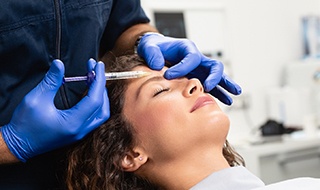 Simply put, BOTOX® is short for a diluted botulinum toxin. This chemical forces the muscles to relax, preventing them from tightening or contracting fully. As a result, when we gently inject it into key locations around the face, like along the forehead and around the eyes, we can smooth fine lines and reduce the appearance of wrinkles. The entire process only takes a few minutes, and the results can last for several months!
Who is a Good Candidate for BOTOX®?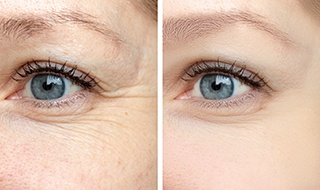 When you meet with Dr. Song, he will learn more about your aesthetic concerns and goals to determine if you are a good candidate for BOTOX®. Generally speaking, however, this anti-aging treatment is used to address the following:
Crow's feet (the wrinkles around the eyes)
Lines between the eyebrows
Wrinkles across the forehead
Smoker's lines around the lips
Lines around the corners of the mouth
Note: There are some patients who are not candidates for BOTOX®, including expecting mothers and patients with deep scars. If you're interested in learning more about who is and isn't a good fit for this treatment, you're more than welcome to give us a call!
The Benefits of BOTOX®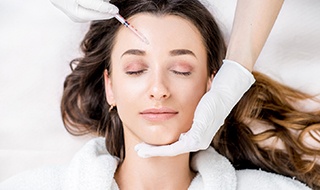 BOTOX® has continued to be one of the most sought-after treatments for a variety of reasons, starting with the fact that it isn't as invasive as other cosmetic services. That means that it's more affordable and there is no downtime afterward to recover! This wrinkle-smoothing treatment has also earned the nickname "lunchtime facelifts" because the entire process can take as little as 10 minutes, and you'll see noticeable results quickly. Lastly, it's important that we mention that the injections are precise and completely customizable, ensuring that we can deliver results that are as subtle or dramatic as you'd like.