Dental Implants – Burlington, MA
Get Rid of the Gaps in Your Smile…Forever

Missing teeth are the kind of problem that can affect much more than a patient's oral health. Speech can start to become unclear and feel awkward, certain foods are suddenly off limits, and most of all, a person's confidence in their appearance can really take a nosedive as well. That's where dental implants can help. Using this state-of-the-art treatment, we can reverse any degree of tooth loss and help a patient reclaim their strong, beautiful smile for a lifetime to come.
Why Choose Derek Song DMD for Dental Implants?
Entire implant procedure performed under one roof
Able to replace any number of missing teeth & last for 30 years or more
Advanced technology guarantees an efficient & comfortable experience
Benefits of Dental Implants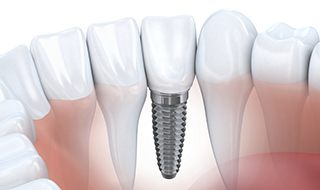 Unlike traditional bridges and dentures, dental implants replace a tooth both above and below the gum line. A titanium prosthetic root is placed directly into the jawbone to recreate the root structure, and this is used to support the new teeth that show within the smile.
Implants are much more stable than traditional restorations thanks to this two-part structure, and they can easily last for 30 years or more.
Dental implants are the only treatment that can stop and even reverse the bone loss that follows tooth loss.
Because of the materials used to make them, dental implants are extremely strong and natural-looking, making them a welcome addition to any smile.
Dental implants require minimal maintenance-- just consistent brushing, flossing, and routine dental appointments.
They have a 98% success rate.
They can be used to replace single teeth, multiple teeth, and can even help stabilize a full denture.
Indications for Dental Implants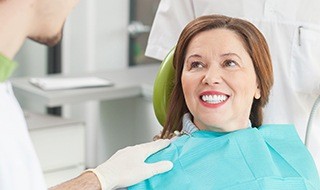 No matter how many teeth you might be missing, dental implants can effectively bring them back. At a consultation with one of our dentists, we can help you decide on one of the following restorative options:
Missing One Tooth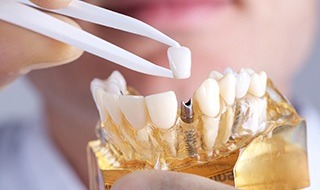 After the implant root has been placed into the jawbone, it can be topped with a custom-made, all-porcelain dental crown to close the gap. This porcelain will be color-matched to the teeth around it, and it won't require support from the surrounding teeth and gums in order to stay firmly in place.
Missing Multiple Teeth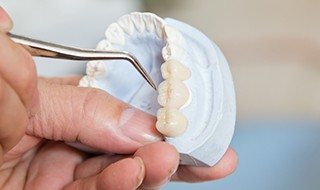 For patients who are missing more than one tooth in a row, they don't simply have to replace each tooth with an individual implant, which can quickly become cost prohibitive. Rather, an implant bridge can be used to close the space. Two implant crowns are placed on either side of the missing teeth, and these are used to support prosthetic teeth that fill in the gap.
Missing All of Your Teeth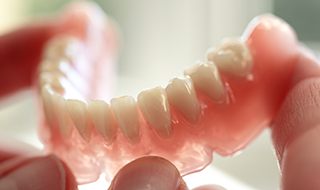 Even those who are missing most or all of their teeth can benefit from dental implants. A denture can be anchored directly to the jawbone using multiple dental implants placed along a single arch, providing a hold, stability, and strength a traditional prosthetic simply can't match.
Start to Finish Convenience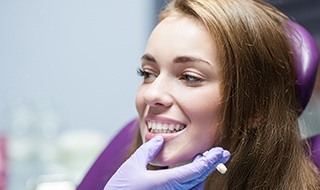 The dental implant procedure is usually completed over the course of two distinct phases: placement & restoration. Placement is when the new roots are surgically positioned within the jawbone, & restoration is when the new teeth are attached to them. Most dental offices have to refer patients to an outside specialist for placement, which adds a lot of time, expense, & stress to the entire process.
That's why at our practice, we're happy to provide the entire procedure in-house. From your first consultation until you walk out of our office with your brand new smile, you'll be able to work with the same doctor & team that you trust, ensuring an efficient & comfortable experience the entire time.
Understanding the Cost of Dental Implants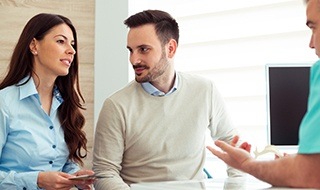 As we've touched on above, dental implants are able to help an entire spectrum of patients with missing teeth, and as a result, the cost of the procedure can vary quite a bit from person to person. Factors such as how many teeth a patient wants to be replaced, where those teeth are located, and if any preparatory procedures are needed (such as a bone graft or tooth extractions) can all influence the final price.
While implant restorations do usually cost more than traditional bridges and dentures, they are actually the better investment over the long-term. Why? In addition to their superior aesthetics and function, dental implants are also extremely durable. Regular restorations typically last about 7-10 years before they need to be completely redone, while an implant can often last for 30 years if not more. With an implant, a patient is able to avoid thousands of dollars in maintenance and countless extra hours spent in the dental chair.