Dental Implants – Burlington, MA
Get Rid of the Gaps in Your Smile…Forever

Missing teeth are the kind of problem that can affect much more than a patient's oral health. Speech can start to become unclear and feel awkward, certain foods are suddenly off limits, and most of all, a person's confidence in their appearance can really take a nosedive as well. That's where dental implants can help. Using this state-of-the-art treatment, we can reverse any degree of tooth loss and help a patient reclaim their strong, beautiful smile for a lifetime to come.
Why Choose Derek Song DMD for Dental Implants?
Entire implant procedure performed under one roof
Able to replace any number of missing teeth & last for 30 years or more
Advanced technology guarantees an efficient & comfortable experience
Benefits of Dental Implants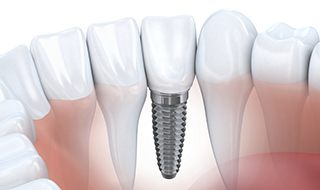 Unlike traditional bridges and dentures, dental implants replace a tooth both above and below the gum line. A titanium prosthetic root is placed directly into the jawbone to recreate the root structure, and this is used to support the new teeth that show within the smile.
Implants are much more stable than traditional restorations thanks to this two-part structure, and they can easily last for 30 years or more.
Dental implants are the only treatment that can stop and even reverse the bone loss that follows tooth loss.
Because of the materials used to make them, dental implants are extremely strong and natural-looking, making them a welcome addition to any smile.
Dental implants require minimal maintenance-- just consistent brushing, flossing, and routine dental appointments.
They have a 98% success rate.
They can be used to replace single teeth, multiple teeth, and can even help stabilize a full denture.
Who Dental Implants Can Help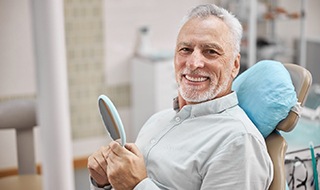 Today, more patients are eligible for dental implants than ever before. No matter how many teeth you're missing, dental implants are versatile enough to bring them back and help you enjoy a complete smile again. When you meet with one of our dentists for a consultation, we'll examine your smile, go over the various factors that affect your candidacy for dental implants, and decide which treatment would best suit your needs.
Who Is a Good Candidate for Dental Implants?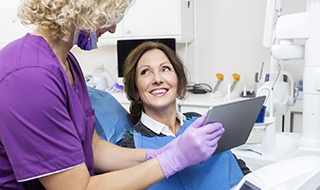 As versatile and effective as dental implants are, some prerequisites must be met before moving forward with the treatment process. For one, good dental implant candidates need to have a generally healthy mouth. Any pre-existing oral health concerns, such as gum disease or decay in remaining teeth, should be addressed first.
In order to be successful, dental implants require a patient to have sufficient healthy jawbone density. That way, the posts can merge with the bone tissue and function like natural tooth roots. Since jawbone loss becomes increasingly common as time passes without natural teeth, some patients may not have a strong enough jawbone to support implants. In that case, we often recommend bone grafting to strengthen that section of the jawbone.
Once we've completed the necessary preparatory procedures, your dental implant dentist in Burlington can devise a personalized treatment plan based on the number of teeth you've lost:
Missing One Tooth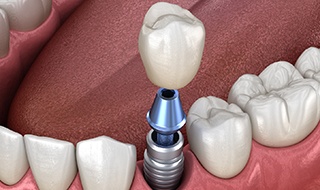 After the implant root has been placed into the jawbone, it can be topped with a custom-made, all-porcelain dental crown to close the gap. The crown will be color-matched to the teeth around it, and it won't require support from the surrounding teeth and gums in order to stay firmly in place. This makes it a more conservative option than a traditional dental bridge, which relies on two adjacent teeth and weakens them over time. A dental implant lets you preserve more of your natural tooth structure for a healthier smile in the long run.
Missing Multiple Teeth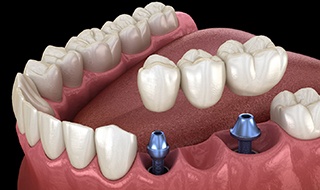 For patients who are missing more than one tooth in a row, they don't simply have to replace each tooth with an individual implant. Rather, an implant bridge can be used to close the space. Two dental implants, each topped with a crown, are placed on either side of the missing teeth, and these are used to support prosthetic teeth that fill in the gap.
An implant-supported partial denture can also be used to recreate multiple missing teeth that are located at various points along an arch.
Missing All Teeth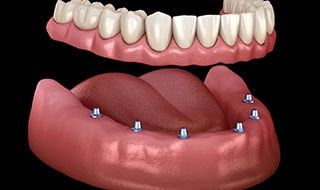 Even patients who have lost all of their natural teeth can benefit from dental implants in Burlington. A custom-made full denture can be anchored onto a small number of implant posts – usually between four and eight – that are positioned strategically throughout the jaw. Because of this support, implant dentures can stay securely in place without the need for messy adhesives. They also increase your chewing power, making it a breeze to enjoy your favorite foods. In short, implant dentures solve many of the problems that traditional denture wearers complain about. This solution is the next best thing to having all of your natural teeth back!
The 4 Step Dental Implant Process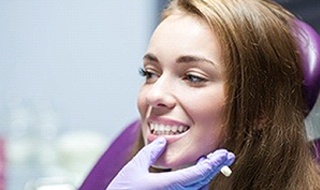 It is true that dental implant placement does require multiple steps and can take significantly longer than other, more traditional tooth replacement solutions (i.e., dental bridges, dentures). It requires undergoing an initial consultation, dental implant surgery, recovery at home, and receiving your finalized restoration.
Most dental offices have to refer patients to an outside specialist for placement, which adds a lot of time, expense, and stress to the entire process. That's why at our practice, we're happy to provide the entire procedure in-house. From your first consultation until you walk out of our office with your brand-new smile, you'll be able to work with the same doctor and team that you trust, ensuring an efficient and comfortable experience the entire time. To learn more about how dental implants work in Burlington, review the information below. If you have any questions, please don't hesitate to contact our office to schedule an appointment.
Initial Dental Implant Consultation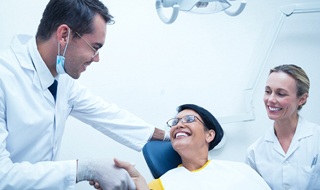 Your initial consultation with Dr. Song will include a complete examination of your smile that will determine if you are eligible to receive treatment. Most adults are considered candidates; however, it may be necessary that you undergo preliminary treatments before moving forward with your dental implant surgery. If he sees signs of tooth decay, gum disease, or jawbone deterioration, you will likely need periodontal therapy, bone grafting, and/or tooth extraction to create a more stable environment for your future, fully restored smile.
Dental Implant Surgery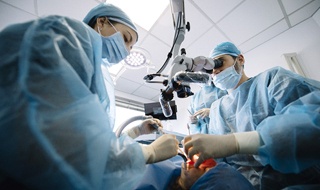 Once you are ready for oral surgery, our implant dentist in Burlington will begin by administering local anesthesia. This will eliminate the possibility of feeling any pain and allow you to remain completely comfortable throughout the procedure. Your dentist will make one or more small incisions in your gums before inserting each dental implant into the correct location. After positioning and angling it to ensure maximum support, we will close the gum tissue and place a protective cap over the top of the implant before sending you home to recover.
Dental Implant Osseointegration/Abutment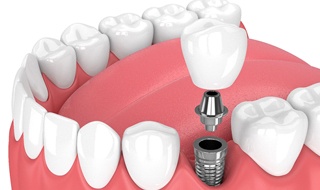 The osseointegration and abutment phase of treatment tends to be the most pivotal and yet, most time-consuming simply because you cannot rush the process. Your dental implants in Burlington must fuse properly with your bone and tissues to make sure it creates a firm foundation for your restoration. If it doesn't, your implants will likely fail. Once you're fully healed from your dental implant surgery, you will return to have your metal abutments put into place. These are small, metal appliances that attach to the top of the implant and connect to the restoration when placed.
Delivery of Dental Implant Restorations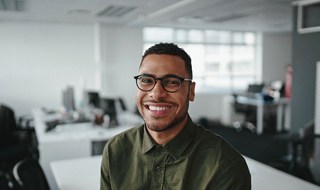 After a few weeks, you will return to our office to receive your new and improved teeth. Crafted by skilled lab technicians, your crown, bridge, or denture will look and feel completely natural, matching the color of your normal tooth enamel and blending in beautifully with the rest of your smile. Because of the versatility of dental implants, they can treat all forms of tooth loss, giving you the chance for an improved aesthetic and better oral health.
Understanding the Cost of Dental Implants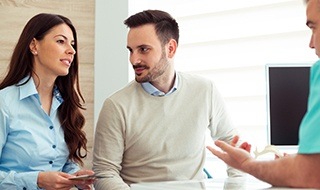 If you're ready to permanently replace your missing teeth, the cost of dental implants in Burlington is concerning, but you have nothing to fear. Although it's tempting to choose the cheapest option, you'll get what you pay for. Instead, it's best to consider a trusted dentist that uses high-quality materials to protect your investment. Our office offers the solutions you need to rebuild your smile without draining your wallet.
Preliminary Treatments & Dental Implant Surgery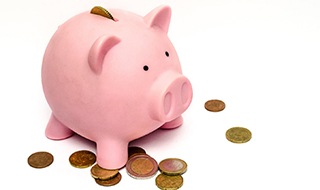 Restoring a tooth from the root up occurs in multiple stages which have separate costs. As a result, you'll have more time to pay for your treatment because the entire amount won't be due upfront. Every patient's needs are unique, but most plans include:
Additional Treatments: It's common to need preliminary treatments, like periodontal therapy, tooth extractions, or bone grafting.
Placement Surgery: Besides the cost of the surgery, you'll also need to pay for sedation or anesthesia.
Our office can handle the entire process in-house, so you won't need to worry about paying separate fees for any specialists.
The Parts of Your Dental Implant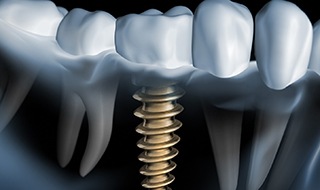 The number of teeth you're replacing will affect the cost as well as the materials used, such as titanium or zirconia. When choosing materials, it's best to consider the longevity of each one to ensure your new smile thrives for many years. We'll explain your options during your consultation to help you find the solution that best meets your needs and your budget.
Final Dental Implant Restoration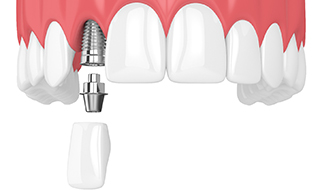 A large contributor to the amount you'll pay involves the severity of your tooth loss and the number of dental implants in Burlington that you'll require. Your dentist will perform a thorough consultation to determine if you're a candidate for a single dental implant, an implant-supported bridge, or an implant denture. Although it costs more to replace several teeth, it is more affordable than treating each tooth individually.
Does My Dental Insurance Cover Dental Implants?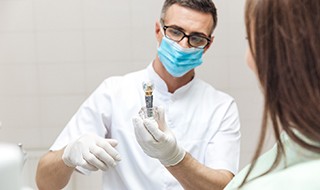 Every dental insurance policy is unique, but many plans can be used to help offset the cost of certain steps in your treatment, like the consultation, X-rays, or restorations. Our team will work on your behalf with your insurance company to file the necessary claim forms, so you have one less thing to worry about. After reaching your annual deductible, your coverage can be used to pay 50% to 80% of the cost of portions of your treatment until hitting your yearly limit. We can even split the costs of your procedure across calendar years to replace your missing teeth without breaking the bank.
Making Dental Implants Affordable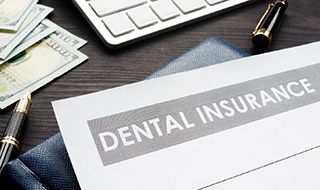 Besides using your dental coverage, our office offers many solutions to pay for your new smile, including:
Traditional Methods: We accept cash, check, and most major credit cards.
Membership Plans: Our in-house membership plan can be used to lower the cost of certain steps in your treatment.
Third-Party Financing: Based on your credit's approval, you are given the funds you need, which you'll repay using a plan that accommodates your budget.
Maintaining & Caring for Your Dental Implants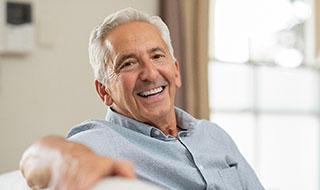 In recent years, dental implants have become an incredibly popular method of tooth replacement, and it's easy to see why! Unlike traditional options like dentures and dental bridges, implants have the potential to keep your smile strong and healthy for a lifetime. Of course, that's only the case with proper care and maintenance. Protecting your implants from damage and infection will help lower their risk of failure and needing replacement. By following a few simple precautions, you can enjoy your newly rebuilt smile for years to come.
Make Oral Hygiene a Priority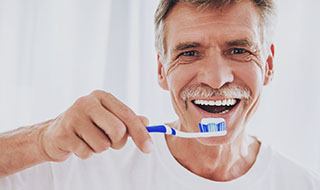 Just because your dental implants can't get cavities doesn't mean you can slack off on your oral hygiene. You're still at risk of issues like gum disease, decay, and infection. These problems can be detrimental to your smile, potentially causing bone and tooth loss. Brushing your teeth twice a day, flossing daily, and rinsing every day with an ADA-approved mouthwash will ensure your smile stays in tip-top shape.
Eat a Healthy Diet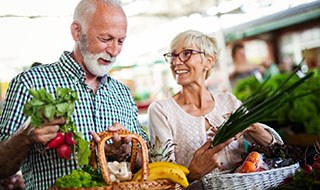 After getting dental implants in Burlington, you can eat almost anything you want! However, you should still be mindful of your diet. Overindulging in hard, sticky, or sugary foods can be problematic for your smile. For optimal oral health, you should eat plenty of foods rich in calcium and vitamin C to keep your jawbone strong.
Break Bad Habits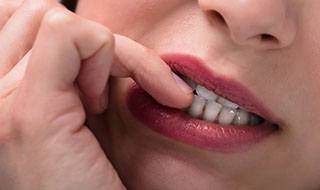 Poor habits like smoking, biting fingernails, using your teeth as tools, and eating ice can destroy your teeth. They may seem harmless, but they can cost you a trip to your emergency dentist's office. You should do your best to kick these habits to the curb as soon as possible. Otherwise, you may end up with missing teeth once again. If you need help quitting smoking, don't hesitate to let our team know! We can provide you with the support, guidance, and resources needed to make the feat as easy as can be.
Protect Your Dental Implants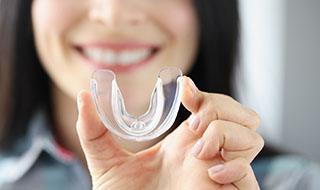 Dental implants are extremely durable, but that doesn't mean they're indestructible. If you play sports, you should ask Dr. Song about a custom-made mouthguard to protect your smile should you sustain a blow to the face. If you regularly grind your teeth at night, you can wear a nightguard to keep your pearly whites safe from extra wear and tear.
Schedule Regular Dental Checkups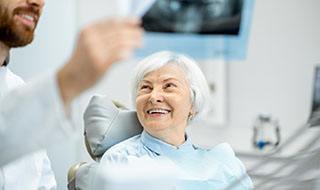 Everyone needs to visit their dentist every six months for a checkup and cleaning. These routine appointments are essential to monitoring your oral health, ensuring there are no issues developing. At every visit, Dr. Song will carefully review your prosthetics and restorations. With early intervention, you can avoid more timely and costly issues down the line.
Dental Implant FAQs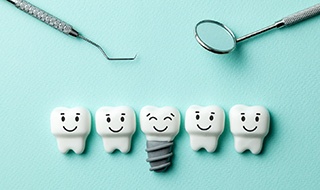 Dental implants are a preferred tooth replacement option due to their numerous benefits. However, they are quite an investment, so it pays to be well-informed. Here are the answers to some of the most common queries we receive about dental implants in Burlington. If you don't see the information that you're looking for below, just give us a call. Our friendly team is more than happy to answer your questions and get you started with an initial consultation.
How Long Do Dental Implants Last?
The lifespan of dental implants usually depends on the health and lifestyle choices of the patient. To make your implants last as long as possible, be sure to brush, floss, and rinse with a mouthwash on a daily basis. Attend your regular dental checkups and avoid chewing on anything particularly hard or sticky. With proper maintenance, dental implants can last for upwards of 30 years. This is several times longer than traditional bridges and dentures.
Does Getting Dental Implants Hurt?
The jawbone doesn't have very many nerve endings and your mouth will be numbed with a local anesthetic before the procedure begins. You will also most likely be sedated, lowering your body's ability to register pain. While the surgery shouldn't hurt at all, your mouth may be sore for a few days afterwards. Take your recommended over-the-counter and prescribed pain relievers as directed by your dentist. Cold compresses can also help to reduce discomfort. If pain worsens instead of improving after two to three days, give us a call!
Will I Have to Take Off Work for Dental Implant Surgery?
Most patients only need to take one or two days off work to get dental implants, but if your job is physically demanding, you should probably take at least three to four days off, as heavy exercise can divert blood from the implant site and delay healing. However, every case is different. Your dentist will be able to give you a more specific recommendation based off your unique case.
Can I Get Dental Implants If I'm Diabetic?
If your diabetes is under control, your odds of dental implant success are generally comparable to those of nondiabetic patients. Uncontrolled diabetes or chronic high blood sugar can slow down the healing process, making it more difficult for your implants to integrate with your jawbone. If you're looking to get dental implants but you have diabetes, talk to your endocrinologist or primary care doctor about getting your blood sugar levels under control beforehand.