Dental Bridges – Burlington, MA
Bridge the Gap in Your Smile!
Even missing one or two teeth can have a big impact on how you look and feel. But thanks to dental bridges, you can fill the gap in your smile! Dental bridges use high-quality materials and cutting-edge dental technology, affording them strength and security that makes them almost feel natural. If you're missing teeth, call our office for a consultation, and Dr. Derek Song will show you how miraculous tooth replacement can be.
Why Choose Derek Song DMD For Dental Bridges?
Modern, Comfortable Office Featuring the Latest in Dental Technology
Beautiful Restorations Tailor Made For Each Patient
One-on-one Care From a Fellow of the Academy of General Dentistry
What is a Dental Bridge?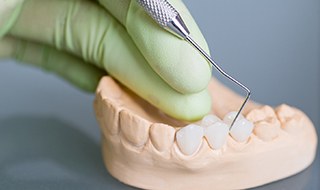 Dental bridges are an incredibly powerful tooth replacement option for people who are missing one or two teeth right next to each other. If you've never seen one, they look like a few dental crowns sandwiched together. Two ceramic crowns are placed over strong, healthy teeth on either side of the space with a beautiful porcelain tooth attached to them, filling the hole in your smile.
Via this method, it can use the strength of your existing teeth to help you bite hard and smile wide again!
Types of Dental Bridges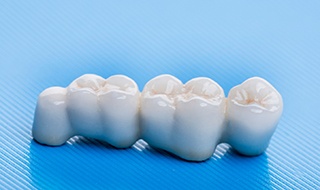 There are a few different kinds of bridges suited to different purposes. The two main kinds are traditional bridges and implant bridges, with the primary difference being how they're secured to the mouth.
Dr. Song can talk to you about which one is best for you at a consultation, but here's a brief overview of what each kind looks like:
Traditional Dental Bridge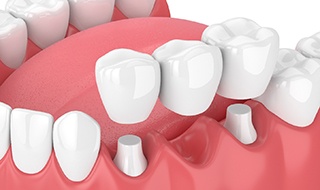 A traditional bridge is designed to fill a gap in the smile left by one or two missing teeth and involves two dental crowns with one or more prosthetic teeth placed in between. The dentist will remove enamel from the healthy teeth and secure the crowns onto them with dental cement.
Unlike dentures, dental bridges afford you a strong bite that relies on the security of the existing teeth. They also don't require any kind of surgery, which makes them a bit easier to get than dental implants.
Implant Bridge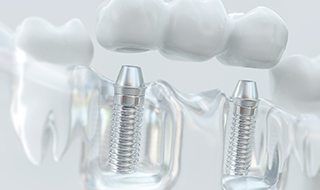 Dental implants are small metal posts surgically inserted into the jaw. These posts can be attached to porcelain restorations to replace one or more missing teeth. Implant bridges are two or more dental implants attached to a string of prosthetic teeth.
Implant bridges are unparalleled in terms of bite strength and durability. They also don't require the dentist to remove enamel from healthy teeth, better preserving your existing enamel.
The Benefits of Getting a Dental Bridge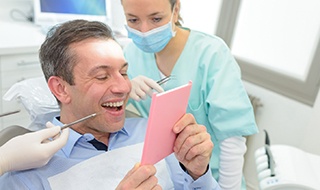 If you're missing a tooth, there are quite a few reasons to replace it. There are the obvious cosmetic benefits—the confidence that a full smile can give you—but there are also some more practical health reasons to fill a gap in your smile:
If you don't, the surrounding teeth will rush to fill the void, leading to alignment issues.
Your teeth are essential to grind up food, which is the best way to extract the most nutrients with them. Even missing one or two teeth can prevent you from getting essential vitamins from your diet.
Large holes in your smile can become breeding grounds for disease and bacteria.
If you want to prevent these problems from coming up, visit our office for a consultation. Dr. Song will be able to help you replace your teeth as beautifully as possible!