Restorative Dentistry – Burlington, MA
Repair & Replace Your Broken & Missing Teeth

It's very common for the teeth to develop damage or even go missing altogether, whether it be due to natural wear and tear, dental decay, or an unfortunate accident. While these issues can easily lead to major problems for both your oral health and appearance, they don't have to thanks to our restorative services. Combining the latest technology with the most lifelike and durable materials, we can help even the most compromised smile look and feel like new again using custom-made restorations. To learn more about how we can help you reclaim your smile, contact us today.
Why Choose Derek Song DMD for Restorative Dentistry?
Every restoration custom-made for each patient
Start-to-finish dental implant care available
Get a crown in just one appointment thanks to CEREC
Dental Crowns & Bridges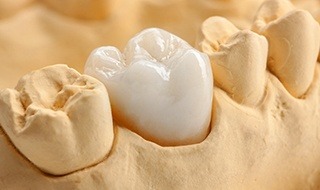 Severely decayed, cracked, and broken teeth can all be recovered thanks to a dental crown. This tooth-shaped restoration is designed to blend seamlessly with the rest of the smile, and it simply fits over a damaged tooth to protect it and bring back its natural function at the same time.
And, for patients missing one or more teeth in a row, crowns can even be used to form a bridge and replace them. Two crowns are placed on either side of the missing ones, and these are used to support prosthetic teeth that fill in the gap.
Dentures & Partial Dentures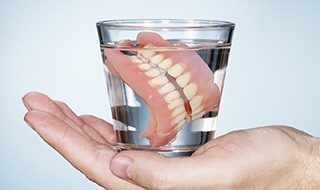 Are your multiple missing teeth making your life a little less enjoyable every day? Sick and tired of your unreliable denture that just won't stay in place? Our practice can provide you with a natural-looking, comfortable, and durable denture that is specially-designed for your unique bite. With it, we can help you reclaim the ability to eat, speak, and smile with complete confidence again, no matter how many teeth you are missing.
Tooth-Colored Fillings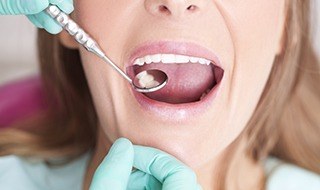 Rather than using darkly-colored amalgam fillings that ultimately make teeth unstable, we only use tooth-colored fillings to repair small cavities and slightly damaged teeth. They are made of a composite-resin material that can be shaded to match any patient's enamel, helping the restoration practically disappear into the smile. Plus, the malleable nature of the resin enables our team to place smaller and more conservative fillings that better preserve a tooth's natural strength and structure.
Dental Implants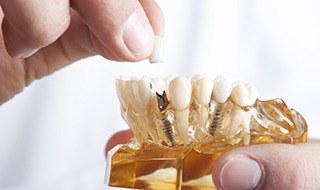 Dental implants are the state-of-the-art solution that can replace any number of missing teeth while also looking virtually indistinguishable from nature. Compared to every other restoration, they deliver the most reliable and durable results, easily lasting for 30 years or more. Our practice is proud to offer all-inclusive implant care, meaning you can have the entire procedure completed in-office, unlike most others who will need to refer you to an outside specialist.