New Patients
Welcome to the dental office of Dr. Derek Song, DMD, the home of modern dentistry here in Burlington. If you're new to our practice and thinking about coming to see us, then this page should help answer some of your basic questions. You'll find information on what to expect during your first visit, our payment options, as well as our in-house membership plan. We look forward to meeting you and your loved ones, and please let us know if you have any questions!
Your First Visit
"No wait time" is our motto, so you will be seen exactly at your scheduled time and not a minute later! One of our friendly hygienists will start by taking some X-rays and cleaning your teeth, and then you'll get to meet your dentist. They'll spend a few moments chatting with you about your dental history, and then they'll perform a thorough oral exam. At this point, they'll discuss their findings, recommend any additional treatments you might need, and give you a chance to ask as many questions as you like.
Dental Insurance
If you have dental insurance, then our team is ready to help you maximize your benefits at every single appointment. We accept plans from many of the nation's top providers, and we are in network with many major insurance plans. Our team can go over your benefits with you so you know exactly what is and isn't covered, and then we'll even file the claim and handle the paperwork on your behalf. With us, saving on your care will always be nice and easy. To learn more about how we can use your insurance, contact us today.
Learn More About Dental Insurance
Patient Forms
To help speed up your check-in process, you now have the option to download and fill out our forms before you come to see us. Just click on the link below to access them. When the day of your appointment arrives, simply bring the completed forms with you, and we'll get you in to see your dentist right away! If you have any issues downloading our forms, please let us know, and we can email them to you.
Comfort Menu
Making you feel as comfortable as we can is incredibly important to our practice. As part of our dedication to making every treatment you receive as relaxing as possible, our office is equipped with nitrous oxide to help those suffering with anxiety or dental phobias. Of course, sedation dentistry isn't the only way we try to make our patients comfortable. We also provide multiple resources that help remove the stimuli commonly associated with dentistry, including sunglasses, lip balm, neck pillows, earplugs, cable TV, and warm blankets.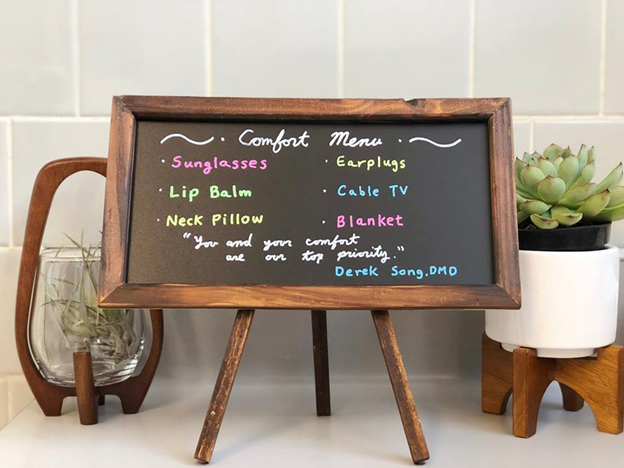 s