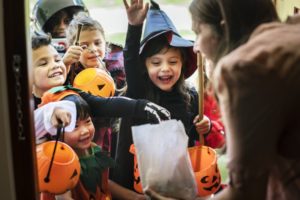 Your child is probably counting the days until Halloween. Trick-or-treating is a family tradition that transforms your house into a child survivalist's dream bunker. With bags of candy hiding in every corner of the house, eating it over the couple of months following October is hard to resist. However, constantly exposing your teeth and gums to sugar can create the perfect environment for harmful oral bacteria to live and plaque to form. To avoid an unexpected appointment with your dentist, follow these six tips for candy consumption at Halloween. 
Avoid Regular Snacking on Candy
Just because candy is lying around doesn't mean you should eat it. Regularly snacking on sweets is actually worse than eating it with meals or only once or twice a day. Constantly exposing your teeth to sugar doesn't give your saliva a chance to rinse it away, packing your mouth with harmful oral bacteria's favorite food, sugar. Once bacteria have accumulated, they release acid that erodes your tooth enamel, leaving your pearly whites vulnerable to decay.
Toss Out All The Sticky Sweets
Sticky sweets are some of the worst ones for your oral health. They cling to your teeth and are hard for saliva to rinse away. If you just can't help yourself around gummies and taffy, be sure to brush your teeth regularly and thoroughly to remove sugar and prevent tooth decay.
Stay Hydrated With Water
Over the next few months, you're going to be snacking on sugary sweets more than you usually do. Be sure to encourage your family to carry around water bottles to keep hydrated. It can help do your saliva's job of rinsing away bacteria and plaque, reducing your risk of cavity development.
Keep Away From Sugary Drinks
Consuming sugary drinks such as soda, juices, and sports drinks are not such a good idea when you start eating more sweets. Drinking a Gatorade right after snacking on some Laffy Taffy is a recipe for disaster when it comes to your oral health because you'll be constantly exposing your mouth to sugar, turning your mouth into a bacterial breeding ground.
Keep Up With Your Oral Hygiene Routine
All the excitement built up around Halloween can distract your child from their regular routine of brushing and flossing every morning and night. Be sure to encourage them to keep up with their oral hygiene routine and follow the fun-filled holiday with a checkup and cleaning from your dentist to take care of any cavities that may be forming.
Avoid Dental Damage From Certain Candies
It's best to steer clear of candies that are hard, or ones that you suck on for long periods of time. These can increase the amount of time your mouth is exposed to sugar, which plays a massive role in the development of dental decay. Hard candies can also put you at an increased risk of chipping or cracking a tooth.
When you follow these six tips for candy consumption during Halloween, you can reduce your risk of developing oral health problems. Being prepared and taking precautionary action can save your child's developing smile from harmful oral bacteria and plaque buildup. Although they may not be thrilled about it now, they'll definitely be thanking you in the future!
About the Author
Dr. Derek Song is passionate about providing evidence-based, patient-focused dental care to his community of Greater Boston. He enjoys treating patients of all ages, including small, developing smiles. He also has a variety of advanced dental training including Invisalign Orthodontic Therapy, and gives his patients ethical, trustworthy treatment. For questions or to schedule a post-Halloween checkup and cleaning to avoid cavity development, visit his website or call 781-272-5890.