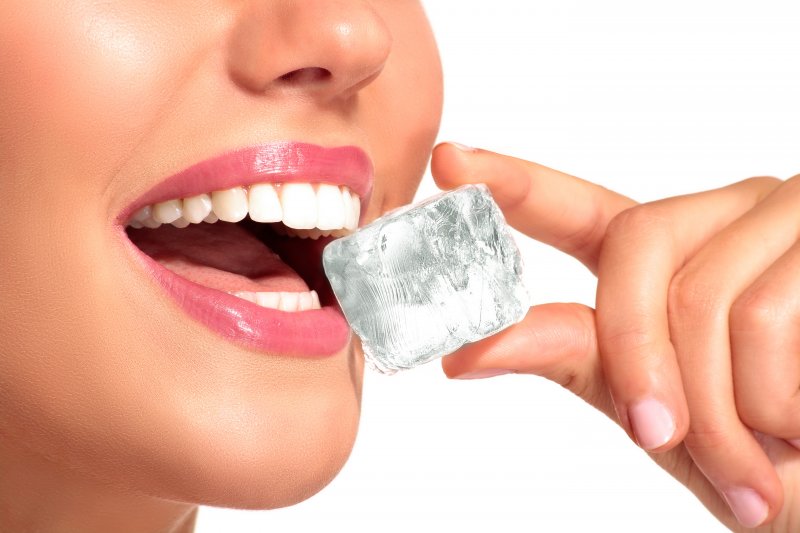 After finishing an ice-cold drink, do you like to chew on the leftover ice cubes? It's a common habit that most people are guilty of, especially during the hot summer months. Unfortunately, chewing on ice is not as harmless as it may seem. You've probably been told to kick that habit to the curb, but are you having a hard time doing so? Read on to learn how it can damage your smile and a few alternatives so you can safely get your fix.
Why Do People Chew on Ice?
You might be wondering what gives someone the urge to chew on ice. Well, it could be one of two things. Some do it out of boredom or as a form of stress relief – others might be because they're iron deficient.
The scientific name for the compulsive consumption of ice or iced drinks is pagophagia. It's the most common form of pica, which is the medical term for craving or chewing on items that have little or no nutritional value (ice, clay, chalk, dirt). Studies suggest that anemics are compelled to chew on ice because the coolness of the ice cubes soothes inflammations caused by iron deficiencies.
How Does Chewing Ice Damage Teeth?
Chewing on ice might not be as harmful as other addictions, but it can still have detrimental effects on your oral health. It can cause chipped or cracked teeth, enamel erosion, sore jaw muscles, and even problems with existing dental work like crowns, veneers, and fillings. As a result of these issues, your teeth can become sensitive and more susceptible to cavities, decay, or even gum disease.
Tips to Break an Ice-Chewing Habit
Are you having trouble kicking this habit to the curb? Here are a few tips and tricks to help you out:
Let the ice cubes melt. Instead of chewing them, try letting the ice melt in your mouth. It'll last much longer, and you can still enjoy a cool treat without harming your teeth!
Enjoy a slushie instead. The finely shaven semi-melted pieces of ice are much easier on your teeth. You can satisfy your craving while minimizing your risk of dental damage.
Choose an alternative crunchy snack. Are you simply craving the crunchiness? Reach for carrots, apples, cucumbers, or celery instead. They're crisp, nutritious options that can help you get your fix. Plus, they have oral health benefits!
Contact your dentist. If you find it absolutely impossible to break the habit, there could be an underlying cause that requires professional treatment. Consult with your dentist to rule out any iron deficiencies. Luckily, iron supplements and other interventions are available for those with anemia or pica.
Don't let your ice-chewing habit leave a lasting mark on your smile. By following the tips outlined above, you can preserve strong and healthy pearly whites that last a lifetime!
About the Author
Dr. Derek Song strives to provide evidence-based, patient-centered, high-quality dentistry to patients in and around the Greater Boston area. He earned his Doctor of Dental Medicine from Boston University's Henry M. Goldman School of Dental Medicine. Dr. Song is passionate about educating his patients to help them make informed and confident choices about their dental care. If you have any questions about your habits, he'll be more than happy to answer them for you. Visit our website or call (781) 272-5890 to schedule an appointment with Dr. Song.