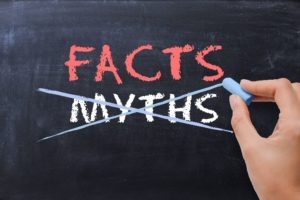 If you have an incomplete smile, you have more options than ever to replace your missing teeth. As an alternative to traditional treatments, many people are choosing dental implants to fill the gaps, but are they right for you? In addition to their benefits, you've also likely heard several misconceptions about the procedure. Don't let dental implant myths prevent you from enjoying the closest thing to your natural teeth. Here are the facts you need to make the best decision for your smile.
Myth #1: Dental implants are only for old people.
Fact: Contrary to what you might have heard, just about anyone can benefit from dental implants. Although tooth loss is often associated with age, people in their 20s and 30s can choose the revolutionary treatment to restore their smiles. No matter your age, if you have good oral and general health, you might be a candidate for dental implants.
Myth #2: Dental implants don't look natural.
Fact: Dental implants are a nearly perfect replica of your actual teeth in terms of function and aesthetics. Unlike other treatments, a dental implant mimics the entire tooth structure from the root up. You'll advantage from unmatched stability while also feeling confident your new smile looks natural. Your restorations are carefully crafted to match the appearance of your teeth, so no one will know they aren't your own.
Myth #3: Dental implants are painful.
Fact: It's true you'll need oral surgery to place your implant posts in your jawbone, so you can expect there to be some discomfort while your mouth heals. You can easily manage it using an over-the-counter pain reliever. After your jawbone has fused to the posts through a process called osseointegration, you shouldn't have any pain.
Myth #4: Dental implants are expensive.
Fact: You'll initially pay more for dental implants than other treatments; however, they are the most cost-effective long-term. With over a 95% success rate, your new smile can last for decades with the right care, so you'll never need to have them replaced to save money down the road. There are several options to make dental implants fit your budget, like using your dental insurance or third-party financing.
Myth #5: You have dietary restrictions with dental implants.
Fact: After your mouth has healed, you won't have to deal with any dietary restrictions because your new teeth will be anchored to your jawbone. You'll never experience any slipping or irritation while regaining as much as 70% of your natural biting force.
Benefit from a Proven Solution
Over 500,000 people per year choose dental implants and for good reason. You can invest in the next best thing to your real teeth using a solution that's proven to last for a lifetime.
About Dr. Derek Song
Dr. Song strives to provide patient-centered dentistry using the latest innovations in the dental field. He earned his dental degree from Boston University's Henry M. Goldman School of Dental Medicine and is a proud member of various dental organizations, like the Academy of General Dentistry. If you're ready for dental implants, contact our office today to schedule your consultation.