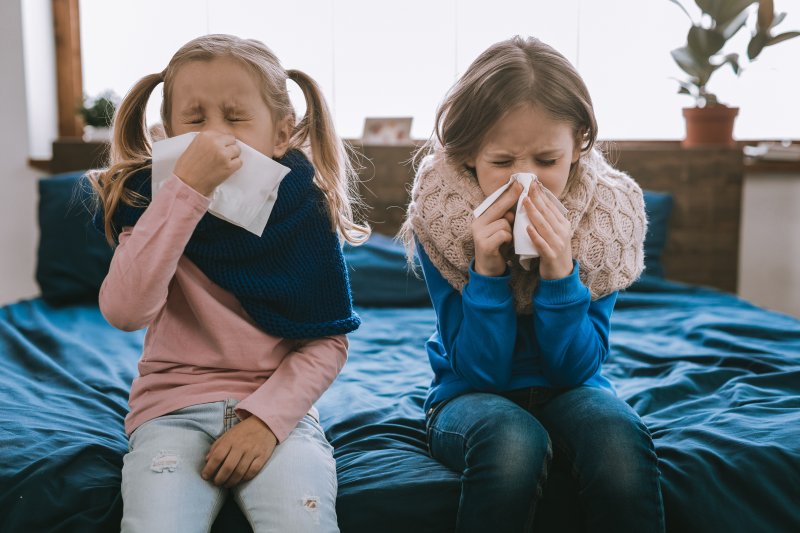 As a parent, it can be heart-wrenching to see your little one struggling with a stuffy nose, nasty cough, and body aches. However, between cough syrups, relaxed oral hygiene routine, and everything else that comes with a typically sick day, their oral health may take a serious hit. To prevent that from happening, here are a few practices to abide by this cold and flu season!
#1. Don't Skip Their Brushing and Flossing Routine
Rest is important. After all, your little one's body is working in overdrive to fight off their cold, flu, or stomach bug. However, it is important that they keep brushing and flossing their teeth morning and night, especially since many sick day staples (like cough drops and fizzy drinks) are jam-packed with sugar. If they are unable (or unwilling) to get out of bed, then bring them a cup to spit in and another one to rinse. That way, you can have peace of mind knowing their teeth are protected.
#2. Protect Their Teeth From Stomach Acid
Vomiting is an unfortunate, unpleasant repercussion of the flu. Although your first instinct may be to have your child brush their teeth right away, it is important to remember how powerful and destructive the acid in their stomach is. Moving it around their teeth with the bristles on their toothbrush right away can do more harm than good, which is why you should have them rinse with a mixture of water and 1 tsp. of baking soda instead. About 30 minutes later, they can complete their usual brushing routine.
#3. Change Their Toothbrush
Although the chance of reinfection is relatively low, it's always a good idea to replace your child's toothbrush once they are on the up and up. After all, you don't want the virus or germs to spread to other members of your family. Plus, the American Dental Association recommends having it replaced every three to four months anyway.
#4. Offer Them Plenty of Fluids
Vomiting and blowing their nose repeatedly are just a few cold and flu symptoms that can leave your child vulnerable to dehydration. Not only can this impede their recovery, but subsequent consequences, like dry mouth, can result in a higher risk of decay and cavities. Therefore, make sure to keep a full glass of water close by at all times and encourage them to drink it throughout the day.
When your little one isn't feeling well, priority number one is to help them heal. Just make sure to keep the above tips in mind to ensure their sick day doesn't result in the need for dental work!
About the Author
Dr. Derek Song earned his DMD from Boston University's Henry M. Goldman School of Dental Medicine, and he has continued to stay at the forefront of dentistry ever since! Today, he has undergone advanced training in a variety of specialties and is an active member of multiple organizations, including the Academy of General Dentistry. Whether your little one is overdue for their biannual appointment or their teeth need some end-of-the-year TLC, don't hesitate to visit his website or give him a call at 781-272-5890.