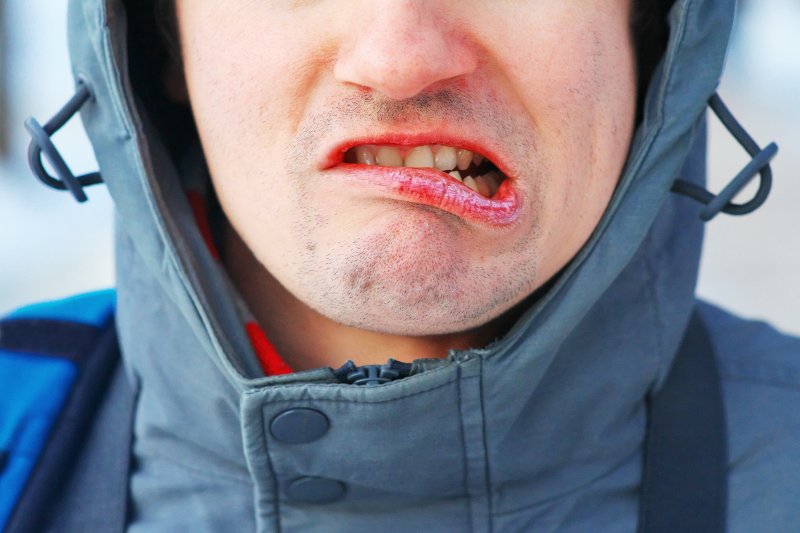 Winter is almost here! The weather is getting colder and the days are becoming shorter. While this is a wonderful time for cozying up by the fire with a hot cup of cocoa, many people find themselves dealing with some frustrating winter mouth issues without knowing how to resolve them. Fortunately, your dentist is here to help. Continue reading to learn more about oral health issues that you may experience this winter and what you can do to resolve them.
Chapped Lips
If you have ever spend a day at the slopes, you know that the combination of cold air, wind, and the sun's rays are the perfect recipe for chapped, dry lips. The exposure to any of these elements can easily damage the delicate skin on your lips. In order to prevent your lips from becoming chapped and keep them moisturized, remember to drink plenty of water throughout the day. Wear a lip balm that contains SPF 15 or higher and apply it often. Having a humidifier in your house can help to add extra moisture into the air as you sleep. If your lips are already chapped, apply petroleum jelly. This will lock in moisture and keep them super hydrated.
Sensitivity
One thing that comes along with colder weather is tooth sensitivity. This is because you are breathing in cold air more often which will eventually lower the temperature in your mouth. This can cause an unpleasant sensation. In order to avoid this, remember to breathe through your nose – not your mouth. This way, the air will bypass your teeth and go directly into your lungs. Another way to reduce sensitivity is by using a fluoridated toothpaste that is made for people with sensitive teeth. If you're drinking a beverage that is hot or cold, use a straw to limit the contact with your teeth.
Dry Mouth
Another common winter mouth issue that a lot of people encounter is dry mouth. If you end up with a stuffy nose due to a cold or flu, you will be breathing through your mouth more often. The more you do this, the more likely you are to suffer from dry mouth. To reduce this, drink plenty of water and limit your caffeine intake. Chewing on sugar-free gum is also a good option to stimulate saliva flow.
Canker Sores
Have you noticed that you tend to have more canker sores over the holiday season? This is probably because you're more likely to be enjoying sugary and acidic treats at this time of year. To reduce this, go easy on the cider, sugary sweets, and spicy dinners. In order to help these sores heal more quickly, rinse with a mixture of a teaspoon of salt and a half cup of water.
When it comes to your smile, winter can be a bit disruptive. But by taking the precautions listed above, you can prevent oral health issues and keep your mouth healthy through the holiday months.
About the Author
Dr. Derek Song is a general and cosmetic dentist serving patients in Burlington, MA. He earned his Doctor of Dental Medicine from Boston University's Henry M. Goldman School of Dental Medicine. Currently, he is a member of the Academy of General Dentistry, American Dental Association, and Massachusetts Dental Society. For more information on keeping your smile healthy this winter or to schedule an appointment, visit his website or call (781) 272-5890.