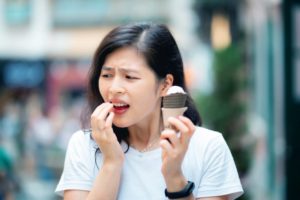 Have you ever experienced a flash of sudden, sharp pain in your mouth when drinking a soda, eating a cookie, or simply breathing in cold air? According to the Academy of General Dentistry, at least 40 million Americans suffer from this condition commonly known as tooth sensitivity. While it may fade just as quickly as it came about, sensitive teeth can make it difficult to enjoy your favorite foods and drinks and negatively impact your oral health. Read on as your Burlington dentist explains what's causing this uncomfortable sensation and what you can do to keep your smile happy and healthy.
Why Are My Teeth Sensitive?
Underneath the hard shell of enamel that protects your teeth is a thin layer of dentin. This material is softer than enamel and contains thousands of microscopic tubes that lead to the tooth's pulp. If the enamel is weakened or broken, the sensitive dentin will trigger the tooth's nerve to react to anything hot, cold, acidic, or sweet.
What Causes Tooth Sensitivity?
Even though your enamel is the hardest substance in your body, there are a number of factors that could cause sensitive teeth, like:
Damaged enamel, which could be the result of over-aggressive brushing, teeth grinding, a cracked tooth, or chewing on hard objects.
Gum recession, which could be caused by gum disease, using a hard-bristled toothbrush, poor oral hygiene, or a lack of flossing.
Bad habits, like eating too many acidic foods, long-term use of mouthwash, or using too many teeth whitening products.
How Can I Treat Sensitive Teeth?
Since the only way to effectively treat tooth sensitivity is to identify what's causing it, you should consult your dentist about the appropriate treatment. After determining the status of your oral health, they may suggest:
Specialized dental products like desensitizing toothpastes, fluoridated mouthwash, or a custom nigh guard for teeth grinding.
Lifestyle changes, including less aggressive brushing, using a soft-bristled toothbrush, or eating fewer acidic foods like oranges, pineapples, certain candies, and soda.
Dental treatments like professional fluoride application, direct bonding, dental crowns, gum disease therapy, or surgical gum grafts if you're suffering from worn-down enamel, tooth decay, a broken tooth, gum recession, or gum disease.
Don't let sensitive teeth keep you from enjoying your favorite foods and drinks or jeopardizing your oral health. With the help of your Burlington dentist, you'll be enjoying a happy, healthy, and strong smile in no time!
About the Author
Dr. Derek Song of Burlington, MA is dedicated to treating oral health issues before they get the chance to interrupt your life. That's why he encourages his patients to come in every six months for a refreshing cleaning and thorough checkup every six months. Using state-of-the-art dental technology and years of experience, he can spot and stop any problems that could cause tooth sensitivity as early as possible. If your sensitive teeth are bothering you, don't hesitate to contact him via his website or at (781) 272-5890.