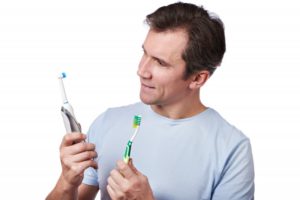 Have you ever been overwhelmed when shopping for a new toothbrush? Rows of colorful toothbrushes that all look similar can make choosing the right one feel like a guessing game. However, not all toothbrushes are the same! In fact, the wrong one could do your teeth more harm than good! So before you randomly grab one off the shelf and hope for the best, find out what questions you should be asking. Read on as your family dentist helps you weigh every decision in your search for the perfect toothbrush.
Are Manual or Electric Toothbrushes Better?
Dental experts agree that, whether manual or electric, the toothbrush that works the best is the one you faithfully remember to use. However, that's not to say some people won't benefit from choosing one over the other. An electric toothbrush is an excellent choice for people with arthritis, carpal tunnel, or limited mobility. Additionally, the built-in timers in most electric toothbrushes are a great feature for those who have trouble brushing for a full two minutes. On the other hand, manual toothbrushes are ideal for those who dislike feeling vibrations in their mouth.
Does the Bristle Strength Matter?
Although most toothbrushes look alike, you'll find that they come in a variety of bristle strengths. For the vast majority of us, soft bristles are the best choice. These are sturdy enough to clean away plaque, but gentle enough to glide over your soft tissues. The extra abrasion from medium and hard bristles doesn't just irritate your gums, but it also scratches away at the hard shell of enamel that protects your teeth. This will eventually cause gum recession, tooth sensitivity, and weakened teeth. To safely and effectively clean your mouth, only use soft-bristled toothbrushes.
Which Toothbrush Size and Shape Should I Choose?
The right toothbrush will allow you to easily and comfortably reach all the surfaces of your teeth. For most adults, a toothbrush head that is one inch long and half an inch wide is a good size. There are larger toothbrushes available, but these can be difficult to handle and position if you have an average-sized mouth. Similarly, compact toothbrushes may require more time to thoroughly clean your teeth if you do not have a smaller mouth. If brushing your teeth feels awkward or cumbersome, it may be due to the size of your toothbrush.
Should I Buy the Least Expensive Toothbrush?
Although buying a pack of toothbrushes at your local discount store may seem like a bargain, they're not a great deal for your teeth. A cheaper toothbrush is more likely to break, fray, or simply not clean as well as a quality one. When choosing between toothbrushes, look for a Seal of Approval from the American Dental Association. These toothbrushes have been rigorously tested to ensure that they meet high standards for efficiency and safety, making them well worth the investment.
Walk down that toothbrush aisle confidently! Keeping these answers in mind while picking your next toothbrush will help you get the most out of your dental healthcare routine.
About the Practice
The dentistry practice of Derek Song, DMD has been serving the Burlington, MA area for more than 30 years. Our experienced team of dentists is dedicated to keeping your smile healthy, whether it's with the newest in-office technology or the practical tips for the best dental routine at home. If you have a question about choosing your next toothbrush, feel free to contact us at our website or at (781) 272-5890.