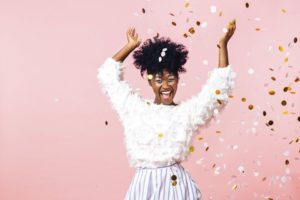 Are you thinking about making a New Year's resolution? Now that it's January, many people are starting new healthy habits to become the best version of themselves. If you're looking for an easy way to improve your health this year, commit to a regular dental checkup! Visiting your dentist twice a year for cleanings and examinations can keep your teeth looking good now while saving you money and discomfort later. Here's what to expect every six months when you visit your dentist, and why these important checkups should be your New Year's resolution for 2020!
Dental Cleanings: More than Shiny Teeth
Have you ever touched your teeth with your tongue and noticed they felt fuzzy or rough? What you're feeling is a buildup of plaque, an invisible, sticky biofilm that coats your teeth. While regular brushing can clean out most of it, even the best dental habits could benefit from a professional teeth cleaning. Especially if that plaque has hardened into a tough, yellowish substance called tartar, which can only be removed by your dentist.
Not only will removing plaque and tartar make your teeth look nicer, but they'll be healthier as well. The bacteria they contain is responsible for causing cavities and gum disease, which can lead to toothaches, infected teeth, and tooth loss. Studies have even linked high levels of plaque to an increased risk of heart disease, Alzheimer's disease, and stroke. Professional cleanings every six months keeps your mouth and your general health safe by clearing out the harmful bacteria before it can cause these issues.
What Your Dentist Can Discover at Your Dental Examination
At your dental examination, your dentist will look for hidden issues that you might not see or feel yet. They'll inspect your enamel for evidence of:
Small chips or cracks
Tooth decay or unhealthy teeth
Weakened enamel, which could indicate issues like teeth grinding
However, your oral health is far more than just your teeth. They will also check your gums and use X-rays to observe your jawbone for signs of:
Gum disease
Impacted teeth
Jawbone deterioration
Dental examinations can even help identify underlying general health issues that present their earliest symptoms in your mouth, like:
Oral cancer
Diabetes
Heart disease
So this year, keep your teeth happy and your body healthy with a dental checkup. Seeing your dentist twice a year is an easy New Year's resolution for getting healthier and improving your life.
About the Practice
You don't have to drive all over town to get the dental care you need when you visit the dentistry practice of Derek Song, DMD. Our team of highly experienced dentists and specialists has been serving Burlington, MA and the surrounding areas with exceptional dentistry for over 30 years. Creating happy, healthy smiles is their passion, and they strongly recommend a dental checkup every six months. If you have any questions, they can be contacted at their website or (781) 272-5890.