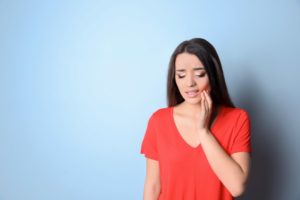 You walk into your dentist office and sit down in the examination chair with a big smile. You're feeling confident about how well you've taken care of your teeth since the last time you came here. You've been brushing twice a day for two minutes, and even flossed a little! Surely your dentist will see how flawless your teeth are. The dentist comes in and pokes around your mouth before sitting back to break the bad news: you have two cavities! It can be frustrating to practice great oral hygiene and suffer from tooth decay, especially if you feel like you get more cavities than your friends or family. If this sounds familiar, you may be cavity prone! Find out what factors in your life could be putting you at a higher risk for tooth decay.
Bad Snacking Habits
The length of time that sugars stay in your mouth is just as important as how much sugar you're consuming overall. If you snack all day long, even on low-sugar snacks, plaque will build up on your gumline. The longer sugars stay in your mouth, the more cavities they can form.
Control how long plaque stays in your mouth by cutting back on snacking, washing your mouth out with water, and brushing your teeth after every meal.
The Shape and Position of Your Teeth
For some people, it's the natural shape or position of their teeth that puts them at a higher risk for tooth decay. Overcrowded teeth or teeth with deep grooves can easily trap food particles where your toothbrush has trouble reaching. Plaque quickly accumulates and forms cavities in these areas.
Regular cleanings from your dentist can be a tremendous help if your tooth shape or placement is the issue. At your regular checkup, your dentist can thoroughly clean all those hard-to-brush places and provide further protection with sealants and fluoride treatments. They can also advise you on procedures that could resize or shift your teeth to reduce your chances for cavities.
A Dry Mouth
Did you know your body creates a natural mouthwash? It's your saliva! Your saliva is constantly rinsing off lingering plaque, cleaning out the spaces between your teeth, and the minerals it contains strengthen your enamel. A dry mouth means that plaque can build up unhindered and cause tooth decay through your weakened enamel.
Try drinking more water if you're cavity prone! The extra water will help rinse your mouth out while rehydrating you to aid in saliva production. Staying hydrated is important for your overall health, including your teeth! For even more support, try enamel-strengthening mouthwash.
If you feel like you suffer from chronic tooth decay, you may be at a higher risk than others! Keep an eye out for these often-overlooked cavity causers and reduce your chances of getting them!
About the Author
Dr. Derek Song is a graduate of Boston University's Henry M. Goldman School of Dental Medicine and an active member of the Academy of General Dentistry. As a general, preventive, and restorative dentist, Dr. Songs offers a variety of services to help his patients maintain a happy, healthy smile that lasts a lifetime. If you'd like to learn more about what can put you at a higher risk for cavities, he can be contacted via his website or at (781) 272-5890.