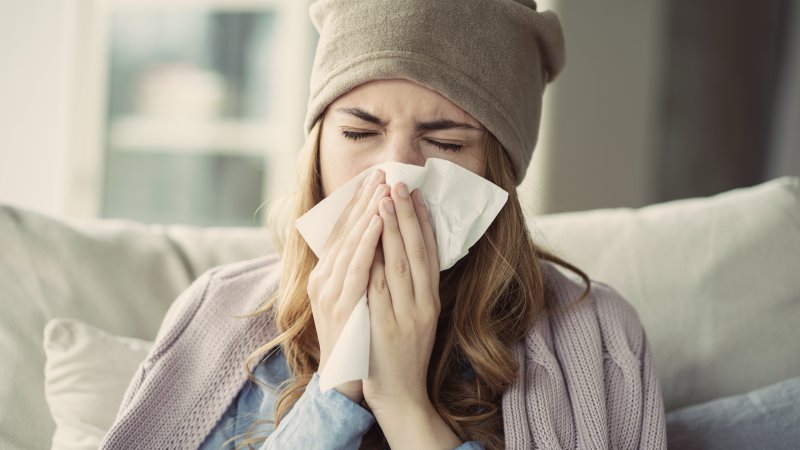 It's that time of year again. A time when people are calling in sick to work because they've come down with the dreaded flu. The aches, pains, running nose, and other more cringe-worthy symptoms are never welcome, but if you don't take the proper steps to stay well, you could find yourself laid up in bed, too. Instead of carrying around a bottle of Lysol and spraying the area around you to prevent germs, why not try these 5 flu season tips to keep yourself healthy this year.
Hydrate by Drinking Plenty of Water
This is probably the most popular suggestion offered by dentists and doctors alike. Drinking plenty of water is important because your body is busy fighting off an infection. In order to keep it from occurring or worsening, you'll need to consume extra fluids. Dry mouth is a common symptom when sick, and it can lead to cavity formation and bad breath. Consuming enough water will prevent this from happening and keep your salivary glands working at an optimal rate.
Brush Your Teeth for Two Minutes
Make sure you're brushing your teeth for two full minutes as well as flossing. This can be difficult to do, especially if you're not feeling well, but it's imperative if you want to avoid tooth decay and gum disease.
Change Out Your Old Toothbrush
As you begin to feel better, go on the search for a new toothbrush. Since you were using your old toothbrush while you were sick, it's likely that there are bacteria still living on it, and by continuing to use it, you'll be more likely to become ill again.
Try Gargling with Saltwater
One way to combat plaque build-up and bad breath is to gargle with saltwater. You'll want to mix a teaspoon of salt into a glass of warm water. Next, make sure to gargle and spit, careful to not swallow the mixture. This will reduce harmful bacteria living in your mouth and throat.
Opt for Medicine That's Sugar-Free
When in need of prescribed or over-the-counter medication, look at the ingredients to make sure it is sugar-free. Too often, syrups and cough drops contain sugar to make it easier to consume, but all this does is make you more susceptible to cavities. Look for medicines that contain a sugar substitute, but if you are unable to find what you're looking for, make sure to brush your teeth immediately after consuming the sugary medicine.
Don't let the seasonal flu get you down. Take the right steps to stay healthy this season and talk to your dentist about additional ways to fight off tooth decay and gum disease, so your oral health remains in optimal shape.
About the Author
Dr. Derek Song completed his undergraduate studies at Boston College before going on to earn his Doctor of Dental Medicine degree from Boston University's Henry M. Goldman School of Dental Medicine. As a highly qualified and trained dental professional in Burlington, he is passionate about providing the highest quality level of care to all his patients. Offering preventive services such as dental checkups and cleanings, he and his colleagues are able to check for problems and give individuals a chance to improve and maintain healthy smiles. Learn more about Dr. Song and the services we provide by contacting us at (781) 272-5890.